About Schippers&VanGucht
Schippers&VanGucht creates catching performances that initiate a dialogue between generations about resourcefulness and the ability to change opinions: essential characteristics to tackle social issues. The immersive works by S&VG make it possible to freeze a moment in time and to turn over viewpoints.
S&VG strikes where you least expect it. Theatrical installations, portraits and interventions are placed in everyday landscapes: we pop up in the streets, on parking lots and the little square around the corner. Through this way of presenting we try to re-write the value of a site. Unusual audience placements direct the way of viewing in such a manner that passive observation becomes impossible and turns into active participation.
S&VG is located in Breda and mainly performs in (or in the vicinity of) theatres, schools and festivals in The Netherlands and Belgium, with a strong focus on the province of North-Brabant.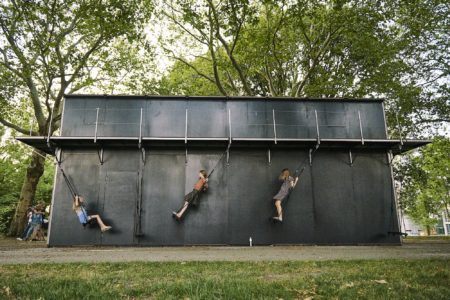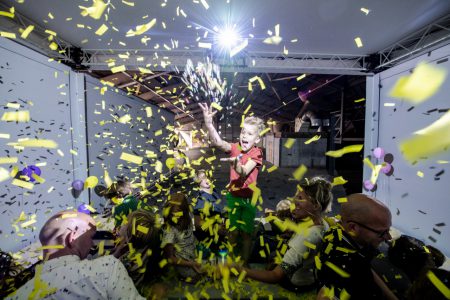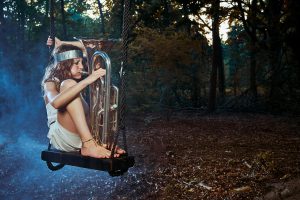 De Kantelaar is an inspired plea for obstinacy and the preservation of the child in all of us. One day Eva tells her parents that she will stay in her room. From there she will look out on the world to find out what is important and what is irrelevant. Without any external influence. This theatrical installation is a piece for everybody. Because everyone realizes one day that some things just aren't right and need to change. In order to loosen up your mind, De Kantelaar makes you swing. Writer Hans Sibbel's swirling train of thought increases your chance on a changeover. Can you twist the perspective?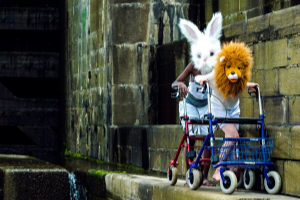 In Warnet (synonym for labyrinth) we find ourselves in the midst of a swirling, associative storm of images in which the wonderful tangle and the beauty of everyday life is celebrated. On a platform in the middle of a large white cube, you will be swallowed by a 360 degrees surrounding video-world. On four large screens, and simultaneously live, we see one actor who shows us forty different characters in various stages of the walk of life. Warnet is a co-production between Schippers&VanGucht and Het Zuidelijk Toneel and an adventure for everybody between the ages of 7 and 107.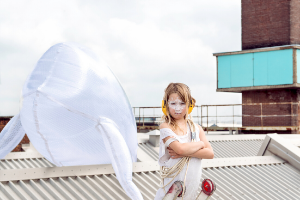 Radio Walvis is a witty and poetic story in a fully recycled set design. Three musicians of philharmonie zuidnederland and actress Eva Meijering bring the story (written by Jorieke Abbing and based on an age-old Inuit-tale) to life. During the performance children from the age of 6 undergo several adventures with Pilu, an Inuit-girl who lives in Greenland with her parents. The enormous amount of busted up plastic on the stage indirectly addresses the issues surrounding the plastic soup. Radio Walvis is a co-production between Schippers&VanGucht and philharmonie zuidnederland.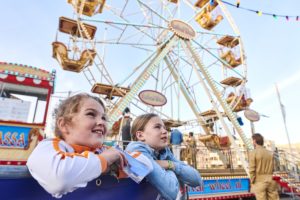 An original adventure for the whole family in an 18-metre-high Ferris wheel. Get on board, spin along with Radman and look around you as if you were seeing the world for the first time.
Schippers&VanGucht and Het Zuidelijk Toneel join forces to bring Ferrisman: a unique musical theatre experience for everyone, from young to old, from culture buffs to fairground fans, with your own city as the backdrop. A theatre installation with the desired distance of 1.5 metres. Read more…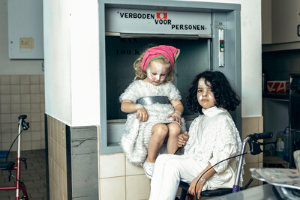 Buiten Dienst is an interactive video-installation and is suitable for all ages. Step into the elevator and travel through an imaginary building for 15 minutes. Move up and down and get to know the various inhabitants of this institution. Are they imprisoned inside the elevator, or in a desperate life? In this elevator you don't just go up and down, but sometimes also sideways and diagonally. No wonder, because that's just like the way that life never goes according to plan. Catch a glimpse of what is to come. As long as you are able to decide for yourself. As long as you dare and can…